Dynamic Ad Program
CommunitiesAlive.com - 36 Hyperlocal Websites
We make digital advertising easy! Sophisticated digital ads don't have to be complicated. Just give us some basic information through an online form, and we will take it from there.
This program includes three components: (1) a Dynamic Ad Box that circulates in a random rotation through all of the pages of our 36 local websites; (2) an Expandable Featured Listing that is placed within appropriate categories of our Business Directory; and (3) a Leaderboard Ad that appears on event listing pages within our popular online calendar. The Dynamic Ad program truly gives businesses exposure throughout our community websites!
1) Dynamic Ads - Your Company in a Box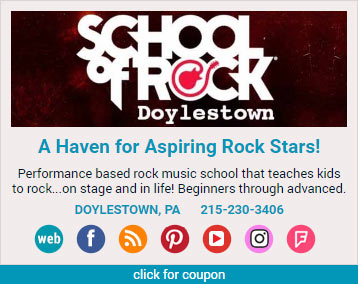 Our Dynamic Ads are comprised of three distinct sections that are geared to foster brand awareness, send a message to potential customers, and ultimately result in customer engagement.
The top third is designed to build brand awareness by displaying a company logo.
The middle third is devoted to a changeable company message that you control using an easy online portal. For example, announce a sale, new product, new service, event, seasonal opportunities, job openings - or basically anything you want in real-time.
The bottom third is devoted to social media links, town and phone number.We make it easy for customers to click through to your website and social media outlets, all from your Dynamic Ad.
2) Expandable Featured Listing - Build Your Digital Brand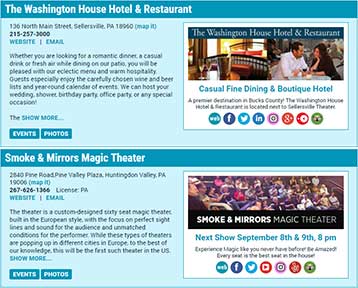 Your Expandable Featured Listing will be found in our thematic business guides and will be featured at the top of a category page. With so many business listings, the placement and size of your Featured Listing will ensure that your ad will be seen.
Featured Listings contain your Dynamic Ad (described above), detailed business description, all contact information (phone, address, email), links to website and social media, mini photo gallery, coupon link, and more). It is truly "Your Company in a Box" - your "elevator pitch" that will entice customers to contact you.
Our main business guide themes are as follows (click the link to see specific categories in each guide):
Just for Kids
Let's Party
Let's Learn
Seniors Guide
Holistic Health
Healthy Living
House & Home
Food & Drink
If you don't see your category in our guides, let's talk to see where you might fit best.
3) Leaderboard Ads on Event Listing Pages in Our Popular Calendar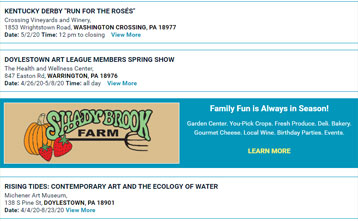 The Events Calendar is the busiest section of our websites. So to increase impressions for our Dynamic advertisers, we have interjected leaderboard ads among the event listings on days with at least 15 events.
These leaderboard ads will be visible whenever a visitor is looking at a calendar listing for a particular day that has at least 15 events. Click here to see an example. Like the Dynamic Ad, the leaderboard ad is linked to your website.
Program Cost
A subscription (pay as you go) payment of $75.00/month (3-month minimum) (not valid for Summer Camp Guide deal)
Questions? Send a message to .