Jewelry
Give the gift of locally made jewelry! These artisans create one of a kind pieces from precious stones, semiprecious stones, fossils, found objects, glass, metal, beads, clay and more.
As an Amazon Associate and participant in other affiliate programs including Etsy, we may earn from qualifying purchases from this page.
Showing results within 10 miles of zipcode 18901
Made with love in Philadelphia, Ginger Herbein creates fine gold jewelry that is eco-friendly and sustainable. She designs pieces that are modern and elegantly bold for jewelry lovers that love to make a statement. Choose from an every day piece, a one-of-a-kind design, engagement, and bridal jewelry, or allow Ginger to custom design that piece you have been dreaming of that is uniquely you. When
Show more...
she is commissioned for a custom piece, Ginger is thrilled to get to know her client on a more personal level. "Words can't describe how it feels to see my client stand in amazement that their dream piece of jewelry has come to life! It is a feeling unlike any other to know that the jewelry I make will have stories tied to them and could very well be passed down through generations as heirlooms." ...Show less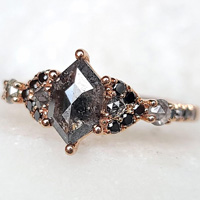 Eye Candy Glass Art
(7 miles)
COVID-19 Message -
Stay SAFE....stay Home, you can still support Small Businesses, by seeking us out! wwww.Dakota-Moon also support the First Responders, Hospital Staff, Grocery Clerks, Postal Workers, Delivery Drivers, Trash Collectors...you know who we all need to Thank !!!
Fine Jewelry from Clare Marshall
(9 miles)
Monique's Art Jewelry
(10 miles)