Travel to De-Stress
by guest writer Paisley Hansen
April 10, 2019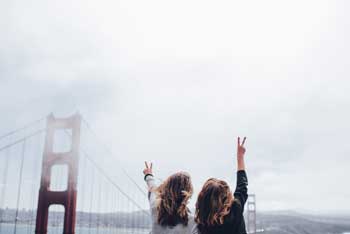 Travel can be an incredible stress release. In one report on stress in America, it was found that vacations can help reduce negative feelings and stress simply by removing you from the stressful environment. There's no better way to take a break from it all while also potentially enjoying the benefits of fresh air and sunshine than going on a vacation. More than that, vacations are an excuse to spend time doing exactly what you want to be doing, no matter how obscure your interests might be. Travel can also be a great way to broaden your mindset, which has its own stress-relieving properties.
Travel for the outdoor benefits
If you opt to go on an outdoor vacation, you can reap a great number of stress-alleviating benefits. Spending time outside has proven benefits for mental health, including improving focus,
easing stress, and battling depression and anxiety
. Being outside can improve your levels of vitamin D, which can also be a useful tool in the struggle against depression.
Beyond that, being outdoors can have great physical benefits. People who spend a lot of time outdoors can expect lower levels of blood pressure than their peers. Being outside also often involves some level of physical activity, which has a great number of health benefits, both mental and physical. Your body will be healthier for being outside, and that will almost always have a positive effect on your mental health.
Travel for your hobbies
One of the greatest ways to reduce stress, as stated by the Mayo clinic, is by
focusing on what you want to be doing
, rather than what you think you should be doing. People who are passionate about a hobby know exactly how that feels, and vacation time is the perfect opportunity to cash in on that feeling.
That's easy enough if your passions are hiking or going to the beach. You should also keep in mind that now more than ever, it's possible to find locations customized to every niche interest. Are you a cheese fanatic? here's a National Historic Cheesemaking Center in Wisconsin. Crazy about dinosaurs and fossils? Try
Thanksgiving Point
in Utah. No matter what you care about, there's a place for you to visit. Remember - taking time to devote to your hobby can be a great thing for your mental health, and can even have a positive impact on your work performance.
Travel for a new way of thinking
The excitement of traveling abroad and experiencing new cultures can do great things for your mind. As we've established, just the act of traveling can alleviate stress, but going abroad, or to a place with a different culture, can do even more. One study found that traveling can increase people's happiness and levels of personal satisfaction. Interestingly, these benefits began manifesting themselves as soon as participants began planning their trips. Trip planning might have just as much effect on stress levels as taking the trip itself!
Studies have also shown that traveling abroad can improve people's awareness and self development. People with high levels of
self-development
are often more able to healthily deal with stress. In short, your little jaunt to Mexico might help give you the boost you need to begin managing your stress is a more healthy way.
If you've been feeling stressed lately, travel is just one solution available to you. If you have the chance, take it! Traveling can be good for you in more ways that just stress relief. Sometimes, of course, it's hard to get the money or vacation days in order to take the trip you're hoping for. In those cases, remember that even small trips into the outdoors or to a place where you can really focus on your hobby can do great things for your mind and body. Travel, big or small, can help you take a step back from your life and come back to it with a better handle on your stress. Author Bio: Paisley Hansen is a loving wife and mother of twins. She is a self-described "DIY addict", and loves to decorate her house and office with her creations. As a mother, Paisley is really passionate about health, nutrition, and spending time with her family. When she's not writing, you can find her with a glass of mint lemon water and a child on each hip. Who says moms aren't superheroes?