Skyrocketing Electric Costs - Ten Ways to Lower Your Bills
by guest writer Paisley Hansen
May 20, 2019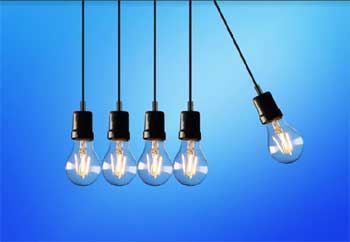 Sky-high electric bills can leave you on a tight budget and scared to turn your a/c or heater on when you need it the most. While being cautious about energy use is a great way to keep bills lower, it's not all you can do. Take into account the tips below and you'll find that your bills are much easier to manage each passing month.
1. Invest in a New Thermostat
Smart thermostats
have been around for a few years and are now more affordable than ever before. These thermostats learn your schedule in order to tailor your home's temperature to you. By automatically adjusting based on when you're home or when you're sleeping, you can dramatically reduce your energy use each and every day.
2. Install Solar Panels
Solar panels harness the power of the sun to produce electricity within your home. These can save you thousands throughout the year, especially if you live in a particularly sunny area. However, these can be expensive to invest in without saving up. Fortunately,
a solar ppa is an excellent alternative
that can save you on the up-front costs of these panels. This type of arrangement is where a solar panel company will install and maintain panels on your home, although they will own them. For a fee, you utilize these panels but ultimately save money on the cost of electricity.
3. Buy New Windows
If you have the budget for it, new windows can help seal in the air within your home. This can help keep the temperature more comfortable throughout the year, even when the weather outside is extreme. While there are many windows available, those that are
Energy Star
certified tend to be the best and may even offer tax credits.
4. Utilize Dimmer Switches
Installing a few
dimmer switches
in the most frequently used rooms in your home can help you adjust brightness so you save energy when lights are on.
5. Clean and Replace Your Air Filters
Dirty air filters can prevent air from freely flowing into your home, which can result in the a/c or heater being in-demand all day long. To fix this, all you need to do is replace or clean your
air filters
regularly. Not only will this help with dust but it can help save you as much as 15% on your energy bills.
6. Adjust Fridge Temperatures
Your fridge should be set at 38 degrees and your freezer at 5 in order to maximize energy savings. These temperatures will still keep your food fresh but they will reduce the demand on your fridge, which reduces energy use throughout the day.
7. Replace Window and Door Seals
If new windows are out of your budget, you can improve them by replacing the seals. This will prevent excess air from escaping so your home stays at a more comfortable temperature.
8. Lower Your Water Heater Temperature
Water heaters
with tanks are recommended to be set at 120 degrees Fahrenheit, according to the Department of Energy. Unfortunately, many homeowners do not know this and have tanks that are set at 140 degrees instead. This simple adjustment can save you money each month without sacrificing a nice hot shower.
9. Replace Light Bulbs
Replace the light bulbs in your home with
LED bulbs
to save quite a bit of money throughout the year. The investment will pay for itself in no time and replacing bulbs only takes a few minutes.
10. Invest in Smart Power Strips
When electronics are plugged into smart power strips, the electrical current will be cut off when devices aren't being used, which eliminates power trickling in throughout the day.
Eliminating Costly Electric Bills
If your electric bills seem to be higher each month, then it's time to make some changes. Fortunately, those listed above are easy to do and can make a huge difference in your bills at the end of the month. Whether you use one or all, you'll be saving yourself money.
Author Bio: Paisley Hansen is a loving wife and mother of twins. She is a self-described "DIY addict", and loves to decorate her house and office with her creations. As a mother, Paisley is really passionate about health, nutrition, and spending time with her family. When she's not writing, you can find her with a glass of mint lemon water and a child on each hip. Who says moms aren't superheroes?