Following the Film GOT THIS!
A short comedy by Saturday Afternoon Pictures
We're excited to bring you the latest updates from Saturday Afternoon Pictures, a production company dedicated to local small footprint filmmaking in Pennsylvania who is returned to Bucks County to shoot their new short comedy GOT THIS! in 2015.

Check out this video to learn more about GOT THIS! Stay tuned for more updates on the Saturday Afternoon blog. And find us on Facebook, Twitter, and Instagram.

Update: OCTOBER, 2016
Congratulations to the Cast and Crew of GOT THIS! on receiving the Festival Award for Best Ensemble at the Columbia Gorge International Film Festival! So proud of our whole team and grateful to this fest and the inspired and inspiring folks who run it with so much love, hospitality, creativity and collaborative genius.
Update: AUGUST, 2015
Production of GOT THIS! is now complete and we are hard at work in post production! Stay tuned for more updates.
Update: MARCH 6, 2015
EMILY PANTALONE will play Hope in Saturday Afternoon's upcoming short, GOT THIS! A recently certified yoga instructor, Emily loves learning about anatomy. She enjoys reading and dancing, and warms up before scenes by rapping Eminem songs.
The Pittsburgh native currently resides in Brooklyn, but is extremely excited to return to her Pennsylvanian roots for this project. She's also thrilled so many cast and crew members are PA natives, despite their questionable allegiance to the Eagles.
Emily is a fan of Saturday Afternoon's small footprint style of filmmaking. She is very excited that the Bucks County community will play such an important role in GOT THIS!
Update: february 20, 2015
Saturday Afternoon Pictures is pleased to introduce one of the stars of GOT THIS!
In the film, JOHN RACIOPPO will play Jack, one half of the couple in search of its missing cat, Bugsy. The Toronto native currently resides in New York City, loves The Lion King, and plays hockey in his spare time. He only fears one thing more than heights, and that's centipedes. But hopefully he won't encounter either while filming GOT THIS!
John is really looking forward to the grand comedic moments his character, Jack will face. But he also recognizes that at its heart, the story is about a young couple trying to make their relationship work. "The balancing act between those two elements will be a lot of fun to play around with," he says. And it will definitely be a lot of fun to watch.
Update: january 13, 2015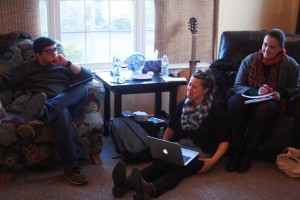 Pre-production for the comedic short, Got This!, has officially begun!
The production staff met for the first time this past Sunday. The group members traveled from three different states and included Saturday Afternoon veterans and some new faces as well. The discussion topics ranged from the tone and style of the film to each person's goals for the production. Without a doubt, everyone is excited for this collaboration.
The crew currently includes:
Susan Barry – Co-writer, Director
Laurie Norton – Assistant Director
John M. White – Director of Photography
Maya Shumar – Production Designer
Ethan Cadoff – Co-writer, Co-producer
Jennifer Frankhouser – 2nd Assistant Director, Choreographer
Nichole L. Knight – Blogmaster, Social Media Coordinator
watch the video to learn more!