Septic Systems
Showing results within 15 miles of zipcode 18901

Search by town:

Search Business Name (4 characters minimum):


With clean residential and commercial service, we pump all septic tanks, holding tanks, cesspools and grease traps. 24 Hour Emergency Service. Ask about our Lowest Price Guarantee.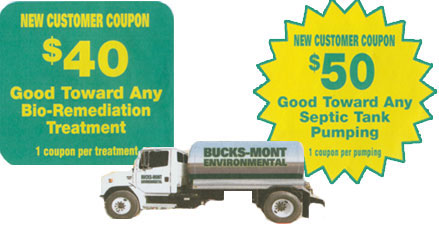 Printed online at DoylestownAlive.com.
-Print Coupon
©2017 BucksCountyAlive.com. All rights reserved.
Redistribution of coupons in printed or electronic form is prohibited.
Norbill Disposal Service
(3 miles)
Norbill Disposal Service
(3 miles)
Lunny Diagnostics
(5 miles)
George Allen Wastewater Management
(8 miles)
FRANC Environmental Inc
(10 miles)
B & C Septic Service
(11 miles)
Accurate Plumbing & Well Services
(12 miles)
A&B Septic & Site, LLC
(12 miles)
Clemens Septic Service
(14 miles)
Allied Septic Service Inc
(14 miles)
Stinky's Septic Service
(15 miles)